To get a quote on uniform destruction and recycling call:
Uniform destruction services help protect your San Diego company from liabilities. When old company uniforms end up in thrift shops or being worn by non-employees, problems and liabilities can arise. We help solve this problem by providing the best and most secure uniform destruction and uniform recycling services in San Diego. What makes us unique is the fact that we can recycle the fiber content in your uniforms. Most shredding companies just send the shredded materials to a landfill. We actually have a few different processes where we divert destroyed uniforms from going into landfills.
Liabilities Arise With Unauthorized Use of Company Uniforms
We have all seen the movies where a bad guy gets an old uniform to break into a company and steal secret information or even worse. There have also been incidents where an unauthorized person wears a company uniform and does something illegal or bad and ends up on YouTube or on the TV on nightly news. Events like this can hurt a company's brand and reputation.
To help prevent breaches of security like this we provide uniform destruction and uniform recycling services in San Diego and surrounding cities. Company uniforms should not be donated because there is no control of where they will end up. It is also not good to send company uniforms in the regular waste stream or trash because there can be scavengers looking for items to reuse or resell.
Types of Uniforms to be Destroyed, Shredded, and Recycled
Typical uniforms that need to be recycled are:
Police uniform destruction
Emergency response uniform destruction
Corporate logo uniforms
School or University uniforms
Designer clothing Recycling
Damaged clothing
Merchandise returns
Counterfeit clothing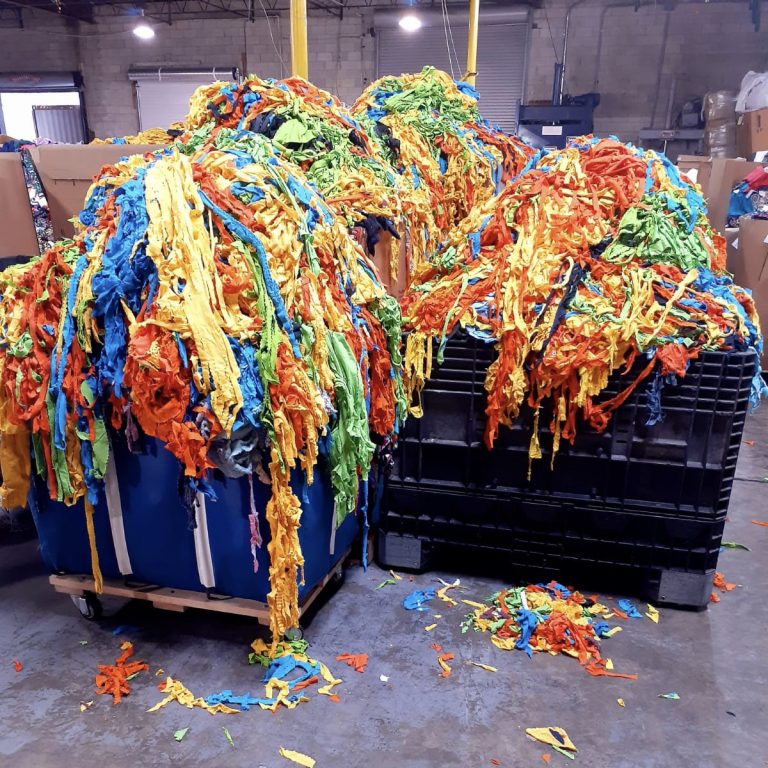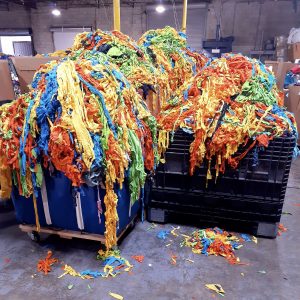 Recycling Destroyed Uniforms Versus Sending Shredded Uniforms to a San Diego Landfill
What makes us unique is the fact that we can recycle the fiber content in your uniforms. Most shredding companies just send the shredded materials to a landfill. We actually have a few different processes where we divert textiles from going into landfills. Our first process is that we recover the cotton fibers and recycle it back into a recycled cotton yarn. The second is that we recycle the fibers into insulation for the home furnishings, construction and automotive industries to be used again.
San Diego's Secure Destruction, Uniform Destruction and Shredding and Uniform Recycling Process
To make sure your company uniforms are destroyed securely we arrange trucking to pickup at your San Diego location. We can also provide tracking numbers on the shipment of company uniforms to be destroyed and recycled. When we receive the uniforms we create detailed reports which can include weights and counts or any other data that your company may need. We also take pictures of the uniforms when we receive them in. Once the materials are destroyed we take a few more pictures so we can give you a before and after picture. Once the job is complete we send you the receiving report, before and after pictures, and the certificate of destruction and recycling.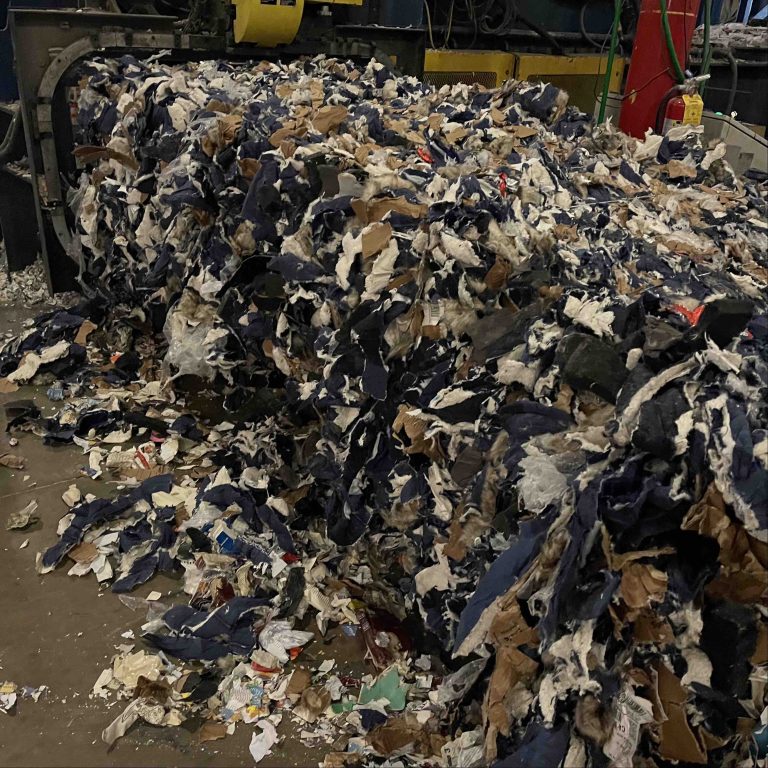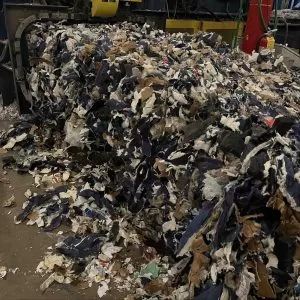 Buying Back Recycled Cotton Yarn for Your Company's New Uniforms
We can have your old uniforms recycled into new recycled cotton yarn. To do this you would need to buy back the yarn so we can produce fabrics to make your new uniforms. We can match colors and provide samples based on your needs. We can provide knitting, weaving, and hosiery. We have applications for making t-shirts, hoodies, socks, beanie hats, dresses and skirts, under garments, polo shirts, blankets, backpacks, bags, and fabric for household goods.
Our knit and woven apparel provide comfort, fashion, and sustainable materials for your employees.
Our corporate wear provides durability and value for employees.
Our performance wear fabrics are made with PET bottles and are modern performance fabrics.
Acceptable Textile Materials for Recycling
Cotton Shirts
Wool Sweaters
Denim Jeans
Cotton Poly Blend uniforms
Poly shirts
Cotton Blends – 100 percent cotton is ideal for reclaiming fibers and spinning back into yarn. This type of cotton is softer than most blends.
Cotton and Synthetic Blends – Can contain some abrasive threads but can still be spun into yarn.
Wool Fiber – Wool fiber is often preferred in the insulation and industrial use applications because it is naturally water repellant, durable, and flame resistant.
Denim – When we recycle denim into shoddy it can be used in the manufacturing process for many industries. Denim insulation is good for sound dampening, automotive insulation, and heating and cooling insulation.
Textile Fiber Processing Steps to Make Yarn
First fibers are placed into an industrial washing machine where dirt or other contaminants are removed.
Next the fibers are put through a picker machine that removes any other debris.
Once the fibers are clean a step called carding is done. The fibers are put through a carder machine, which aligns the fiber and produces roving.
The roving is then put on a spinning machine to make yarn.
Next the yarn is made into fabrics for use in new uniforms.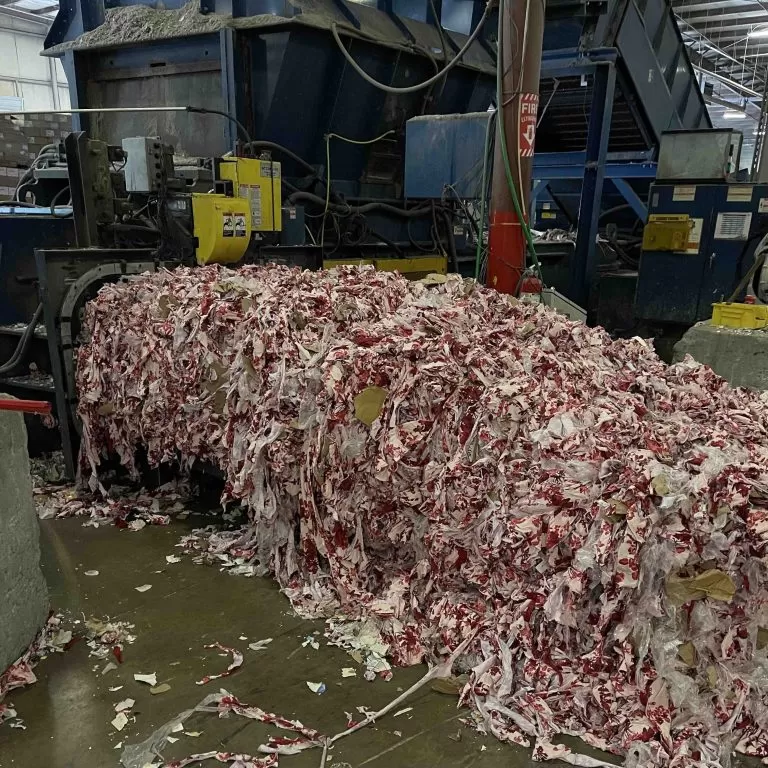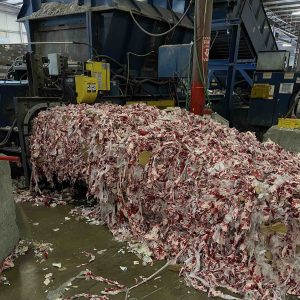 Environmental Benefits of Recycling Shredded Uniforms
Most companies have goals to achieve zero waste but most also don't thnk about the apparel the employees are wearing. Our textile recycling solutions have helped companies recycle as few as a hundred uniforms and up to a few hundred thousand uniforms. We are also currently working on projects to recycle millions of uniforms monthly for our customers. Below are some basics on how recycling uniforms can help the environment.
Saving Water – By recycling cotton uniforms your company can help save an enormous amount of water. 2 pounds of virgin cotton uses 3,425 gallons of water. 2 pounds of recycled cotton uses 0 gallons of water. Because cotton is one of the most water dependent crops it has caused many drought and water shortages across the world.
Reducing Emissions and Greenhouse Gasses – Manufacturing textiles is one of the most polluting industries in the world. Synthetic materials are a large cause of this. If you recycle your cotton uniforms it will help reduce the amount of pollution.
Reducing Landfill Waste – The United States Environmental Protection Agency estimates that 25 billion pounds of textiles are tossed into landfills each year. That equals about 5 percent of all landfill space. It is rather alarming that the cotton textiles that are ending up in landfills could be recycled.
Information Needed to Start a Uniform Recycling Program
Are the materials new uniforms or used or worn?
How are you currently disposing of your company uniforms?
How many pieces or weight of uniforms for destruction and recycling do you have?
What types of uniforms do you have eg. denim, polo, overalls, knitwear, t-shirts?
What is the material composition of the uniforms? For example the percent cotton and other fibers in the materials.
Best Practices for Shipping Uniforms on a Pallet
Typically businesses have large amounts of uniforms for recycling. We have 2 basic ways that make shipping uniforms easy and convenient.
If you have a large amount of uniforms the easiest way to ship them is on a 48×40 pallet. If you do not have a pallet you can get one from www.Repalletize.com. Stack all the boxes nice and neatly on the pallet. Once you reach a safe height you need to shrink wrap the pallet to prevent it from falling over or shifting in the truck.
If you have around 10 to 30 boxes of uniforms shipping by USPS, UPS, or FedEx might be a better option. Our program provides return mailing labels which can be easily printed out and attached to any box. The uniforms will be mailed directly to our processing center. We have helped clients with as few as 10 boxes start mail in uniform programs. We have also helped clients with over 6,000 boxes or 300,000 uniforms that needed an easy solution to mail back uniforms from over 1,200 locations.
Depending on your shipping needs we have a solution for your uniform destruction and recycling program.